Bjornhild is a humanoid animal follower that can be recruited by the hero.
Description
[
]
Bjorhild is a bear of the Guardian class. "A fierce and tough protector. She gives no quarter until danger is cleared."
Discovered in Niflheim along the frozen banks of the river Gjoll, the bear known as Bjornhild is a formidable den mother. She is quick to sense threats and will give no quarter until danger is clear. Her favorite food is celery.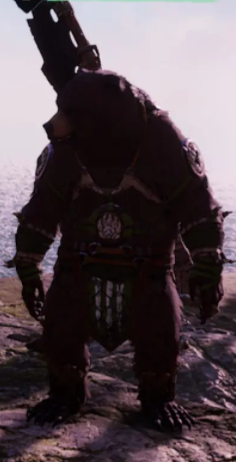 Details
[
]
Talent: Toss. "Point at a log and Bjornhild will use her immense strength to lift and carry it."
Weapon: Bardiche.
Combat ability: Avalanche. "Devastates enemies within range." (Causes Freeze status ailment.)
Recruiting
[
]
Bjorhild can be recruited at Gjoll, River of the Dead in Niflheim.